OSS Santa Maria
The First HAPBY Boat
-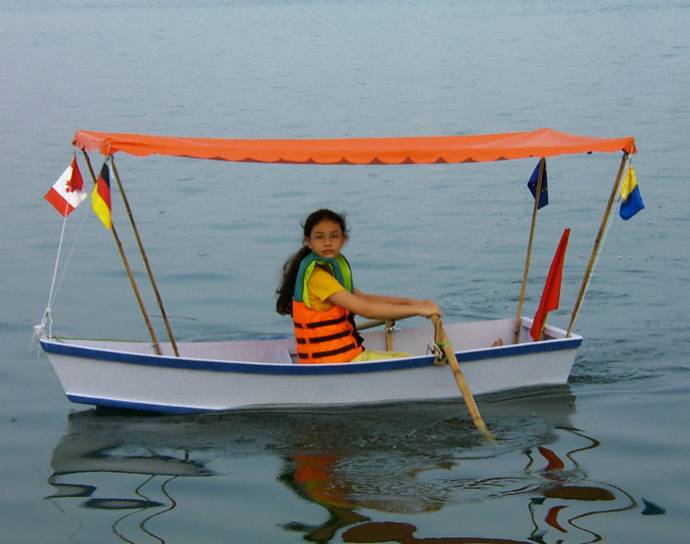 Hull Number:
0401-001
Owner:
Anna-Ly Probst
Hull Type:
One Sheet Skiff (OSS)
Hull Designer:
Herbert McLeod (Canada)
Build Version:
Picnic Launch
Overall Design:
Stefan Probst (Germany)
Overall Dimensions:
about 7'8" x ??? (not yet measured)
Weight:
Hull: (not yet measured), Empty: (not yet measured), max. Displacement: (?)
Manufacturer:
HAPBY (Hanoi Private Boat Yards), a still purely virtual entity
Boat Yard:
Thai Ha, Garage Dock
Construction Period:
End of June to Middle of September 2004
Delayed due to difficulty finding suitable Epoxy.
Launch:
Friday, 22.10.2004, Hanoi, West Lake, Trich Sai Stairs
Builders:
Anna-Ly Probst, Stefan Probst
Construction Type:
Plywood, Framed
Construction Details:
inside grade plywood, 8 mm (1/3");
inside and outside 2 layers Epoxy,
bottom 1 layer fibre glass, chines 2 layers fibre glass
inside and outside 3 layers latex based paint
Design Objectives:
Evaluate availability of tools and materials in Hanoi.
Get data about cost of building boats in Hanoi.
Assess skills of both builders.
Assess suitability of boat yard premises.
Confirm transport options.
Evaluate launch places and risks (aka legal situation) of lakes in Hanoi.
Provide test platform for small electric propulsion systems.
Have fun.

Notes:
Anna-Ly chose the name "Santa Maria", the name of Christopher Columbus' flag ship, when he discovered America. I liked that idea, since it fitted also to our situation:
To build that boat was a journey of discovery with uncertain outcome.
And now, after it has been done, like Columbus who actually discovered only some islands in the Caribbean,
I am sure that it is only the start of much more to come.

Most design objectives have already been met, or will be within the next weeks.
Remaining main issues to be solved before the next large-scale projects:
- Find reasonable out-door quality plywood - or suitable alternative design methods.
- Find reasonable propulsion in the 5 to 15 HP range.