Project "Boos 1"
Module Class: Roth-old (i.e. 4 ft / 1.2 m wide)
Assembly consists of 2.5 to 3.5 modules (i.e. 20 to 28 feet/6.1 to 8.5 m):
Bow (e.g. Pinta) + Logistics (loo and galley) (e.g. Punta) + maybe sleeping (double berth) + an half-length propulsion module (assuming that a small trolling motor will not be enough).


Purpose:
- test feasibility of assembly and disassembly of modules on the water
- test stability, especially the overhanging galley and berth
- (if can be brought to the Red River): survey size of usual waves there
- (if can be tested in larger waves): test strength of joints under various waves
Usage:
- picnic cruises on the West Lake (2.5 modules)
- weekend "cruises to nowhere" on the West Lake (3.5 modules)
- exploration of the Red River
Transport:
- If the propulsion module is made slighly less than 4 ft wide,
then it could be stored inside the bow module for transport.
- If the superstructure of the sleeping module is foldable (or tent-like),
then all three modules could be stacked on top of each other:
sleeping module on top of the bow module, logistics module on top of sleeping module.
- Total height in that case: 2' + 2' + 6' = 10' (3 m); footprint: 4' (1.2 ) wide; total width: 6'6" (2.0 m)
- In that case, the whole 28 feet long boat should be transportable on a mid-sized open truck
with a bed size of 5'3" x 9'2" (1.6 x 2.8 m)
Project "Boos 2"
Module Class: Roth (i.e. 5 ft / 1.55 m wide)
Assembly consists of 2 to 4 modules or more (i.e. 16 to 40 feet/4.9 to 12 m):

Start with Michalak Dockbox (with only very slight modifications):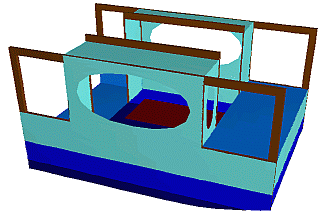 I consider this as the real yacht version of the Bolger Brick. You simply can't get more usable living space out of an 8' boat.
The Dockbox provides sheltered seats for up to four adults, two berths, fairly comfortable porta-potti toilet with full privacy.

Then build a Bolger Fast Brick, 8' long (or 12', if building space and transport options allow), but widened to 5': a Wide Fast Brick: the "WiFa Brick", and mount it stern to stern to the Dockbox. Mount a bracket for the outboard to the Dockbox' forward transom ... and use the Dockbox as the locomotive backwards.


This makes it for a party boat for 5 to 6 people, or a nice river cruiser for 2.
Now build a 5' wide TIMS module (8' or 12' long) to get even more party space, and especially shift the Cg a bit more to midships.

Next is another Dockbox, but this one without the rocker. Maybe install a canopy at standing height (about 6.5') between the two Dockbox modules


A river cruiser for 4, party boat for at least 10. The stern platform of the Dockbox (in original direction) can easily be made to a self-draining cockpit, e.g. for a shower.
Still not enough? Then double it and make a catamaran.

With an 8' connecting platform, this configuration would be about 32' long (8' TIMS and 8' WiFaBrick), and 18' wide.
Feel free to add walls for a shanty, one panel at a time.
And this everything ...
... with a B/D of at least 10/1, and a L/B for one hull of about 6/1, i.e. very low power required.
... with minimal requirements to building skills, building space, and transport options.
... to be built, one module at a time, as financial and time resources permit.
"If you can build a Bolger Brick, then you can build this monster."
Just don't ask me, how to get this growing beast registered.
Maybe as a barge convoy, with an extra hull number for each module?